Facilities (Global Frontier)
The following three facilities work closely together as a "Global Frontier" to help international students study and enjoy exchange among students.
International Center
The International Center works with its partner institutions around the world. We are always available to answer questions and provide advice, even before your arrival in Japan.
By conducting an orientation session immediately after your arrival, providing student life support during your stay in Japan, and organizing various events throughout the year, the Dokkyo International Center staff will help to make your life in Japan and at Dokkyo as comfortable as possible.
Japanese Language Office
The Japanese Language Office is in charge of the intensive Japanese Language Program. The staff conduct Japanese placement tests, handle course registration for the Japanese Language Program, manage class attendance, arrange support students for those learning Japanese, and so on. The office is located right next to the International Center. Please feel free to come and talk to the staff if you have any questions or concerns about your Japanese courses.
International Communication Zone
The International Communication Zone (ICZ) provides a stimulating environment that is unique to Dokkyo University. It promotes the pursuit of new knowledge by facilitating exchanges and collaborations across different languages and cultures. Students who are studying or have an interest in various languages can come and go as they please. By offering an environment that promotes intercultural understanding in a relaxed and casual setting, the ICZ has emerged as one of Dokkyo's most popular spots for both international students and Dokkyo students looking to make friends.
Third Floor: Communication zones for language practice
The third floor consists of three dedicated language zone rooms for German, English and French along with a shared lobby area. Each of these rooms offers students a chance to immerse themselves in the designated language through reading books, newspapers and magazines, listening to CDs and watching DVDs or the news. It's a great place to get some first-hand experience of a country's language and culture as well as its history and the latest news.

Deutsche Ecke (German)

WE ARE (English)
(World Englishes Action Resource Environment)

Espace Francophone (French)
Each room is equipped with study tables that can be reconfigured as required for formal meetings, informal small-group discussions or other purposes. The shared lobby is used for a variety of events throughout the year, including Chat room, Christmas parties, and international student events.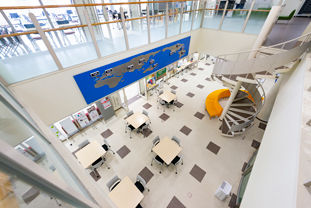 Fourth Floor: Multicultural Communication Zone
The fourth floor is home to the Multicultural Communication Zone. At its center is the Multicultural Communication Room, a space for multicultural communication in Spanish, Chinese, Korean, and Japanese.
Designed to encourage communication in multiple languages, the Multicultural Communication Room provides students with a venue where they can interact without being restricted to one particular language. This provides a welcoming environment for students who are learning different languages or who are interested in other languages. Students can come and go as they please.
The fourth floor offers an opportunity for multiple languages to be spoken and promotes cross-cultural understanding. It is also a great space for browsing foreign-language materials and holding study sessions.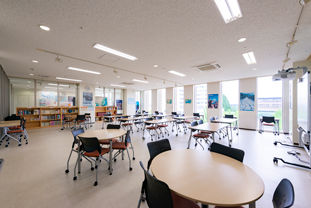 For information on other facilities, please see the Campus Facilities page.