Message from the President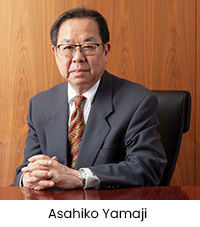 The name "Dokkyo" is a coinage of the Japanese terms "Doitsu-gaku" (German studies) and "kyōkai" (association). Founded in 1883 as an independent institute of German language and culture, Dokkyo played a pioneering role in the process of Japan's modernization, modeled on the West. Following WWII, Japan strived to become a more democratic society open to the world. Dokkyo prides itself on its contribution to international education in post-war Japan. In 1964, Dokkyo University was established as an affiliation to the original institute. Since then it has earned a solid reputation for providing superior foreign language education and active exchanges with overseas universities around the world. Initially starting with two faculties, Dokkyo University has grown to include four faculties encompassing eleven undergraduate and three graduate degree programs.
The founder of Dokkyo University, Teiyu Amano, was a dedicated scholar of Immanuel Kant. His idea of the university as a institution for "personal maturation through academic disciplines" reflects the German tradition of self-cultivation (Bildung). To translate this founding principle into reality, the university has emphasized the notion of individual selfhood while placing importance on knowledge and skills relevant to the community at large. Modern rationality is confronted by unforeseen challenges in society today. We believe it is time to return to Amano's educational premise that philosophy and education are closely integrated. Our vision at Dokkyo is to foster individuals with a strong sense of dignity and self-worth and with intellectual skills suited for practical application, helping them cope with rapid changes in global and local society in the 21st century.
Our campus is located in Soka, Saitama, a suburb of the greater Tokyo area, situated conveniently along the Tobu Skytree Line. All buildings and facilities have been recently redesigned, providing students maximum opportunities for autonomous learning while engendering an environment of collaboration and teamwork. We are committed to creating an ecologically friendly campus harmonizing buildings with nature. I look forward to welcoming you in person to our Dokkyo campus, for great things ahead in 2021 and beyond.